Carneoline FK23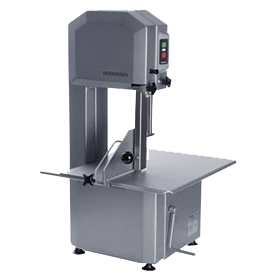 Description
The Carneoline FK23 is made entirely from stainless steel and with top quality construction all round. Ergonomic and effective comminution and portioning of fresh and frozen foods. 
Area of Use
Suitable for fresh fish as well as for frozen meat

Products with bones such as shanks / osso buco and soup bones

Production of same weight portions such as cutlets

Due to the wide range of saw blades high quality products such as fine fish or matured beef can be processed by accurate weight and optically appealing.
Highlights
Robust s/s design, welded w/o edges

Electronics integrated in housing thus perfectly protected against mechanical and water damages

Solid saw wheels, removable adjustment wheel w/o tools

Technically mature wheel and blade scraper system - easy to remove for cleaning

Unique Bizerba ergonomics, suitable for both, left and right operation for better cutting results and less risk of injury

Easy and hygienic cleaning - special Bizerba cleaners available