XE-A147
Bright, easy-to-read LED display,Built-in SD card slot for easy data transfer and programme backup,Electronic journal for convenient storage of transaction data,Compact, low-profile design,Thermal printer with graphic logo printing,Easy setup and operation.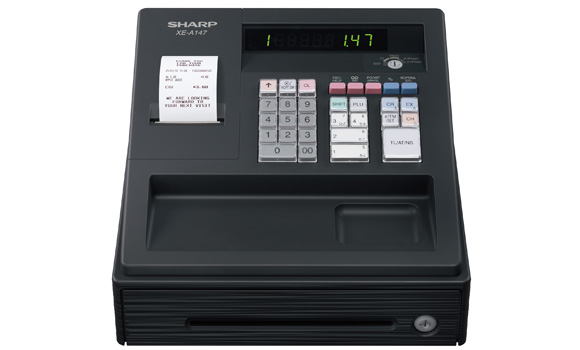 Description
Compact Design with Built-In Convenience
A compact, low-profile design makes the XE-A137-WH/BK and XE-A147-WH/BK real countertop space savers. The front-locking cash drawer features three bill compartments and a removable six-compartment coin tray. A slot accessible from the outside of the drawer provides a quick, safe way to put large bills and cheques into an under-tray storage area without having to open the drawer or lift the heavy coin tray. What's more, a multi-purpose tray on the outside a handy new design feature provides a convenient resting place for coins, bills, and pens.
Thermal Printer with Graphic Logo Printing
The built-in thermal printer prints out sales receipts on 58-mm-wide paper at a rate of approximately seven lines per second. Graphic logos can be printed out as well, helping to further promote your business. Plus, the drop-in paper loading mechanism lets you change paper rolls quickly and easily.
Bright LED Operator Display
Bright and easy-to-read, the LED operator display on the XE-A137-WH/BK and XE-A147-WH/BK accommodates up to nine digits for easy viewing of currency amounts.
Data Backup via SD Card Slot
The XE-A137-WH/BK and XE-A147-WH/BK are equipped with an SD card slot. SD memory cards (4GB to 32GB) can be used to back up various kinds of data, including daily sales and electronic journal data. CSV-file-type data can be saved to an SD card then managed on a computer via Excel or other spreadsheet applications. What's more, a variety of settings store name and logo, department names, product names, sales tax rate, and more can all be configured on a computer and imported into the XE-A137-WH/BK and XE-A147-WH/BK quickly and easily via an SD card.
Electronic Journal
The XE-A137-WH/BK and XE-A147-WH/BK feature an electronic journal function that can electronically store up to 3,000 lines of transaction data, helping to conserve paper and reduce costs.
Fast and Accurate Price Entry
Equipped with 200 PLUs (price look-ups), the XE-A137-WH/BK andXE-A147-WH/BK makesentering pricing information a snap. By simply entering the code orscanning* the barcode for the items being purchased, you can total upsales with accuracy and speed. A total of 99 departments are alsoavailable, enabling you to easily track and analyse transactions byproduct type.